With holiday shopping season approaching, I wanted to remind our community to shop local and shop in Mesquite. While other malls across the country are closing or reducing their offerings, Mesquite's Town East Mall continues to grow. Many new stores and services are coming the mall. This includes Dick's Sporting Goods scheduled to open in spring 2018. In addition, they are opening a new playground area to support the Read Play Talk literacy initiative in our community. Across the street from the mall, Market East Shopping Center is growing as well. Home Goods, Michael's and more stores are coming soon to that shopping area. In addition, let us not forget about our small business owners throughout Mesquite and in historic downtown. National Small Business Saturday is Saturday, Nov.. 25. The City of Mesquite encourages shoppers to consider shopping at small businesses that day and throughout the year to support locally owned businesses.
However, while shopping in Mesquite we encourage you not to become a victim of opportunity. Mesquite is a safe community. In fact, this past year, the Mesquite Police Department reported the lowest crime rate in 30 years. However, like all inner-ring suburbs of metropolitan cities, crime will occur. And, of all the crimes committed in Mesquite, about 20 percent of those are the break-in or the theft of a car. Why? Well, amazingly the Mesquite Police Department reports that about 40 percent of the calls for the burglary of a motor vehicle they respond to involve the vehicle being left unlocked by the operator. Adding to the issue of cars being left unlocked, is the fact that many times there are valuables left in plain sight within the vehicle. Shopping packages, purses, cellphones, personal documents and other items attract the attention of a criminal.
Because of these reasons, the Mesquite Police Department has launched an aggressive public education campaign to encourage the community to "Take. Lock. Hide."
TAKE – Take your keys. Even if you have a remote device to lock the vehicle, too often keys to the vehicle are left inside, which gives the criminal an easier way to steal the vehicle.
LOCK – Lock the vehicle. Too many times our police officers respond to car break-ins in which the victim states they were just running into a store for moment, only to find valuables stolen from their unlocked car.
HIDE – Place valuables and documents out of sight. Items placed in clear view from windows only invite the interest of criminals. The theft of personal possessions and personal identification can be eliminated by placing them in a secure location.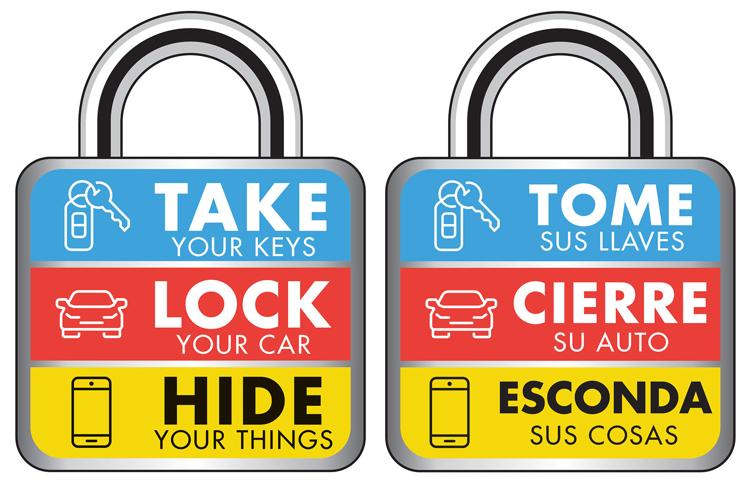 Burglary of a motor vehicle is a regional and national issue. Communities throughout the Dallas-Fort Worth area continue to battle this crime. According to national figures, more than 1.85 million auto thefts and vehicle break-ins occur annually. These crimes have resulted in the theft of more than $1.2 billion in personal property – that is B in billions!
It only takes about 10 seconds for you to Take Lock and Hide. But, it takes a criminal only 20 seconds to break into a vehicle. So please, take the time not to become a victim of opportunity. Take. Lock. Hide. It is easy. It is quick. It is safe. Do not become another crime statistic. Help us keep you safe this holiday season and throughout the year.
Take. Lock. Hide.